Art Book & Poetry Collection
When time comes, i will make a book of artwork created over poems. The book takes the reader on an exciting and beautiful journey into the world of colors and words. There is food for thought, eyes and soul.
For many years I have been working on finishing my poem collection and have been writing many of my poems while I paint.
That's why my book of art and my poetry collection are together as a pair of 2 lovers that match each other, and the reason why I publish them together.
My pictures are photos of my oil paintings and in this collection my poems work on a deeper Zenbuddistic level, and are therefore also interpreted on a deeper mental level. – But can also be read as a common poem.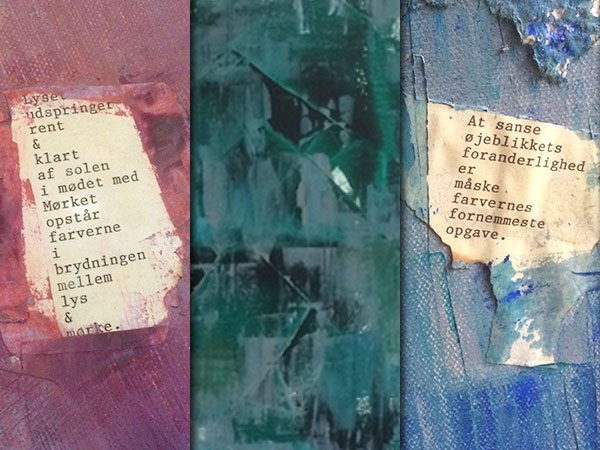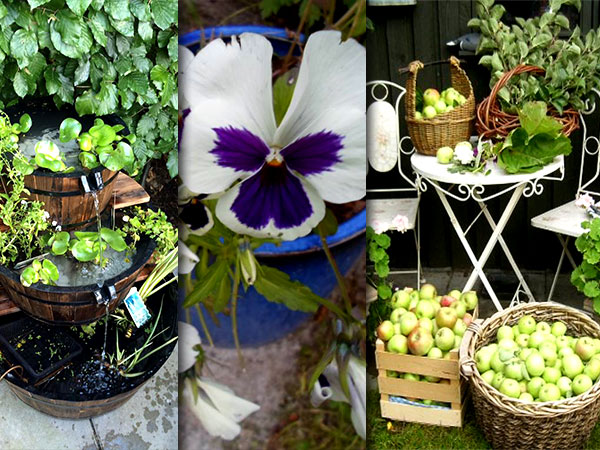 Garden-Book and The Paradise Garden
I love the fragrance and the energy of flowers, plants and wildlife.
My once to be book is becoming an exciting and different garden book, a book based on my own Paradise Garden.
How do you create a Paradise Garden that breathes of peace, idyll and relaxation, and where there is balance and harmony in nature.  A garden that creates the opportunity for the ultimate enjoyment and peace of mind in body, mind and spirit.
My book will have beautiful artistic Photoes, good advice, which is not the kind you can read about in every other garden book, but that tells you something about building energy in harmony with nature.
A garden bulging of fruit and flowers and a story about autumn of beautiful apples, rhubarb, blackberry, raspberries, gooseberries, white ribs, blackcurrants and grapes.
Unraveling about the process from 'from garden to table' and showing how all of a sudden you got 8 bottles of apple juice, 3 apple pies, 2 apple / rhubarb / cinnamon pies, delicious estragonbuns & beautiful flowers in immersion with many cozy corners, water in the garden and a snail on its way in the beautiful garden you created.
Good things take time. – And it sure does take time to build a Paradise garden."
The art of food in a Cookbook
One of Minea Beha's great passions is food art. Throughout the years Minea has created a wealth of delicious, beautiful and tasteful dishes made primarily of vegetables and fruit. So many that family and friends in a steady stream have expressed the wish that Minea ought to write a cookbook. Minea finally listened and are well on her way with the first one. With an accuracte artistic eye, shapes and colors are mixed when Minea go to work in the kitchen.
Look forward to a book full of taste, and a huge love for food.
Minea Beha talks about her cookbook:
"I am working on a book about food art, which is based on the principle of 'food need to be tasted into – and to taste good', food has to be delicious and healthy, fun and beautiful, and as many ingredients as possible is harvested from my own garden.
It is ok for the food to take a certain amount of time to make, for example:  the importance of giving the food time cook "in". You will also find interesting sections about salt, sugar, oils, etc.
Food is also art – it must look delicious, taste good, smell good and look tempting when it's served – it' is an art to make good food and it requires immersion and sometimes it takes a long time, but some dishes and dainties can also be made rather fast."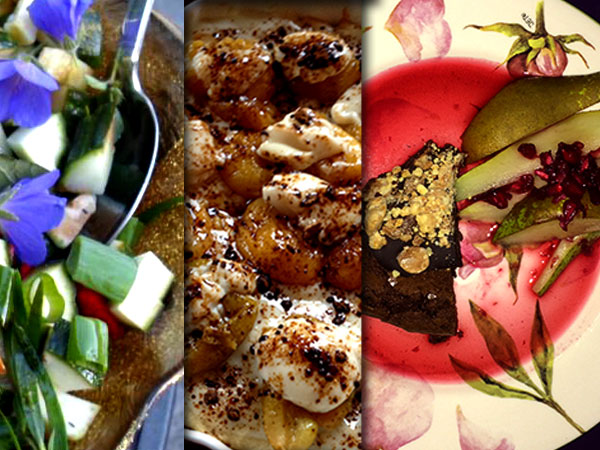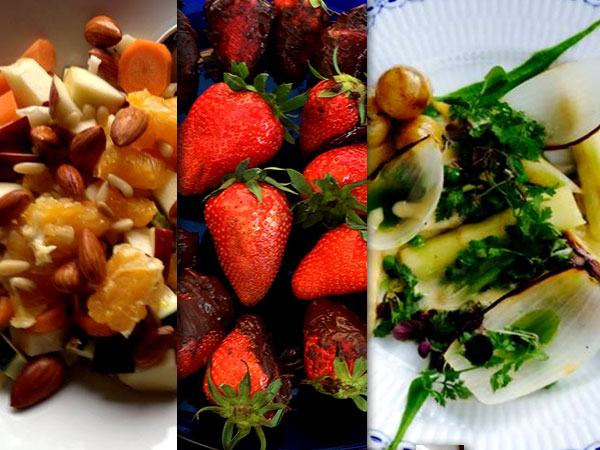 A good kitchen contains many exciting and different ingredients, for example, I have more than 50 different spices,10 different kind of salt, many oils, etc.
My cookbook contains a lot of exciting and different dishes. Most of the dishes I have invented myself and some have been inspired by others, but they are always created in my own style and way.
My cookbook will contain both starters – main courses – desserts – snacks, cakes, shots, juices, etc.
I am very inspired by the beautiful Italian cuisine and the energy and passion, that Italians put on virtually everything they do – an intensity that is so me. An intensity that inspires me completely. To me, food is a complete sensation of colors, aromas, tastes and feelings.
My cookbook will be dedicated to my lovely children, grandchildren and foster children who have in the most tender and caring way, pushed me into this adventurous journey of writing and taking photos when I´m cooking, so i can share the Art of my Food.